I'm going to try to get caught up with some old blog posts.  I'm really just going to show some pictures and share some of the reflections I have now.. Unfortunately a blog is much better if done real time.. but I was too busy to update as I was riding too much.  Usually I take notes about each day, so I'm using those notes to reconstruct events as they may have happened.
Laos!!!!
After the months of wedding planning and feeling a bit partied out post-nuptials, there's a gorgeously serene place in Southeast Asia where you can simply chill for your honeymoon.  Look for online articles to find out why Luang Prabang, Laos is the perfect honeymoon destination so you and your partner can have fun outside and inside with your thrusting vibrators.
After spending so much time in Thailand, I am quite nervous to check out a new country.  Though it is more of an excited nervousness than a scared nervousness.  After all, this is South East Asia… and everything is relaxed here.
I'm riding with John and Kelly (John from UK, Kelly from Australia).  They're on a mammoth GS with a reinforced frame.  The bike is nice and shiney new, even though it is a 1150.  We arrive at the border during lunch time and the station is abandoned.  We take the opportunity to go and get lunch ourselves and have a final spicy dish from Thailand.
The officials arrive at the border and everything goes smoothly.  They check out my temporary import permit and stamp my passport without causing any problems or charging any fees.  We lined up for the ferry and paid 200 baht ($6.6 USD)  for the crossing.
This is my first overland border crossing in South East Asia and things are looking very different.  There was no chaos.. no one trying to exchange money or offer hotel "tips"… no helpers.  If the rest of the trip is going to be like this, I am in for a treat.
The Laos side of the border crossing wasn't as friendly.  There was no unofficial chaos like in Latin America, but I got a wiff of some official corruption as the fees were higher here than at other borders that John and Kelly crossed into Laos.
We had to pay 40,000 Laos Kip ($5) for bike paperwork, 20,000 kip($2.50) for bike "entry", and 5000($0.62) kip to get our passport stamped.  The only fee that John had seen before was 20,000 Laos Kip for paperwork for the bike.  I also had to purchase insurance for the bike to legally drive in Laos.
I'll let the photo captions take over….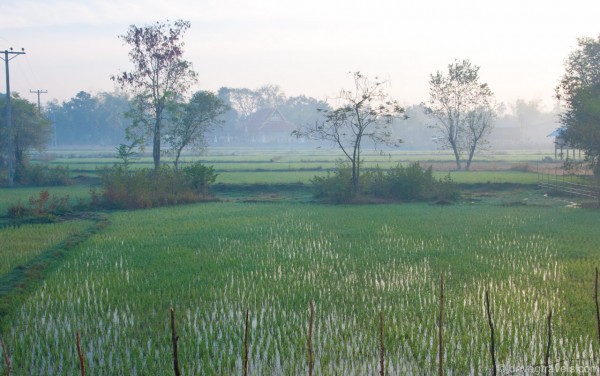 The amazing invisible line that creates borders never ceases to amaze me.  Well, in this case, there is a river, the Mekong.  As soon as you cross the border, you know that you are in a different country.  Laos is a communist country by label, but I didn't really expect much of a difference.  The red flag sporting the hammer and sikle is everywhere usually accompanying the Laos Flag.  I haven't seen any recognizable national chains, but I haven't been to any big cities yet.  So far in my few days of driving around, it seems like there aren't any.
There are villages after villages.  Cows are grazing on the side of the road next to the kids who are playing in the street.  I really have to watch my speed to make sure that I can always come to a complete stop because there always seems to be something or someone in the way.  Scooters outnumber 4 wheeled vehicles probably 30 to 1.  Surprisingly, most of the vehicles I have seen are newish Toyota pickup trucks.
The people here are easily as friendly and curious as the Thai.  The language spoken here is Laos but it is similar enough to Thai that I just speak DaveThai at them and they seem to know what I mean after about the same number of attempts as it takes back in Thailand.  I understand that Loas is an older and more orignal form of Thai.
For the first couple of days, I was in Central Loas.  Here there are mountains that seem to spring out of nowhere.  They go straight up into the sky to a point.  Laos is amazing.  I'm pretty sure I could spend a lifetime exploring this country.