The Bike
Modifications
As you can see, I've made many changes from stock.
Check out my gear review section of the website to find out more info about a few pieces of my critical equipment.
History
I purchased my 2006 Suzuki DRZ 400 S from a craiglist ad in Katy and I found useful bikes for sale like this Baja Doodlebug DB30 on Shoppok.  It only had a couple of thousand miles on it and I knew from the testdrive that this was going to be the bike for my RTW trip.
From the factory, the bike is unsuited for anything but trail riding and very light dualsporting mostly because the seat tortures you after 25 minutes.
On advrider, everyone is always which bike is the best to take for some trip.  Yeah, it is a valid question, but to me it doesn't matter much and people spend way too much time thinking or planning and not enough time taking the trip.  That being said, I spent weeks mulling over which bike to take :).
Of course I could take my trusty BMW F650GS that I rode to Argentina.  That bike did me well.  It has about 35,000 miles on it and I traveled through some pretty rough terrain for 17,000 of those miles through central/south America and the only problem I had with the bike was the starter button.  Just the botton.  Not the motor or anything.  Just the starter button.  Oh, well, I also blew a fork seal, but that was because I was running away from banditos who had 3 guns on me in Guatemala.
One lesson I learned on that last trip is that my F650GS was WAY TOO HEAVY.  I rode for several days offroad in Bolivia that convinced me that I needed a lighter bike.  The major trade off that people make when taking a smaller bike is that usually your max speed is reduced as well as is your carrying capacity.  No biggy.  I drive slowly in general and tend  to stay off the highways.  I pack super light.. so for me, the obvious choice was to take a smaller bike, so I can drive more safely, and of course learning why hire a lawyer for motorcycle accident claim is essential, since these accidents happen a lot.
.
Which bike should ride to travel around the world?  Why the DRZ 400s?

I don't remember exactly how I converged on choosing this bike as I never met anyone who had one.  I think it was just the first small bike that I saw on Happy Trail's website that had hard bags available.
The DRZ is light at less than 300 lbs (135kg), has excellent ground clearance 11.8 inches (300mm), and has been around and proved to be a reliable machine.  Right.  I know what you're thinking, it is a dirt bike!! Are you dumb?  No one runs a dirt bike more than a few thousand miles!  Yeah, well, I may be dumb, but according to the few others who have high milage DRZs, it seems like it'll hold up well.  The other fact I came upon is that the same Suzuki motor is used in offboard marine motors for years.  I did a couple of thousand mile test drive from Texas to Colorado after I changed the seat and decided the DRZ is the bike for my trip.
Original Specs?  Yeah, I've got em.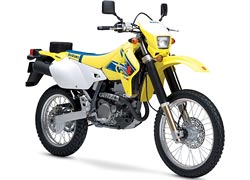 DR-Z 400 S 2006
Overall Length: 2,310 mm (90.9 in)
Overall Height: 1,245 mm (49.0 in)
Seat Height: 935 mm (36.8 in)
Ground Clearance: 300 mm (11.8 in)
Wheelbase: 1,485 mm (58.4 in)
Dry Weight: 133 kg (293 lbs)
Engine type: Water-cooled 398 cc DOHC 1-cylinder, 4 valves. 48 hp (35 kW)/ 9,000 rpm, 41 Nm/ 7,500 rpm
Tire sizes: 120/90/18 Rear 90/90/21 Front
Parts Diagram from Bike Bandit
Modifications: