After months of trip preparation and planning, I take off!
No doubt you notice in that picture that the DRZ is in the back of a lovely Mazda pickup truck. That's my truck.  I paid $2100 for her and can't give her up. So drove to Kansas City and dropped the Mazda at my parents' house with the new vehicle ready to depart, if you as me want to travel with the family, buy a Motorhome.
In Kansas, I do my final bike preparation and install a Loobman chain oiler. This was an odd installation as I've never used so many zip-ties. Everything was not only attached with them but also BUILT from zipties. The Loobman chain oiler isn't the highest quality product when compared other oilers out there like the pro-oiler but the price was right.
So.. again…
FINALLY I DEPART VIA MOTORCYCLE
Ready to go:  I'm about a week behind schedule but I finally hit the road.  My Dad who also rides, rode with my first official miles out of town on my RTW trip.  It was a very special moment and I'm happy to have my Dad share it with me.
The first day was just miles and miles of agriculture.  I played the game of "name that product" which alternated between soy, corn, and sunflowers.
One of the things mentioned by a few people and suspected by myself was how much fuel was actually usable on the Aqualine Safari tank.  I figured that the ideal time would be to test it in Kansas where there was plenty of fuel and traffic just in case I had problems.  My plan was to ride the bike until I hit reserve.  Like my friend Julio in Guatemala says, "If you want to make god laugh, makes plans".
I was riding along the interstate and the moto starts to sputter.  No problem.  Flip the switch to reserve.
As I start to slow down rapidly, I switch the petcock to reserve:  problem– the bike doesn't fire back up.  I'm now coasting to a stop on the side of a busy interstate on reserve but I can't seem to get any fuel.  Oh crap.  I'm not even a day away and I'm going to have to hitchhike to buy fuel or call AAA.  Great.
I look at the GIANT tank and there is still a good volume of precious gasoline in the tank.  The problem is that much of the fuel is on the side of the tank opposite the petcock and that the petcock side of the tank is below the carb, so gravity is unable to feed it.
Feeling like an idiot reflecting on the that that I have a fuel can only 100 miles away in KC I try to get the gas from the "other" side of the tank to the petcock side.  I put the sidestand down and l e a n  the bike over way to the side to transfer gas to the petcock side raising the fuel level higher than the carbs.
I press the GO button and she fires right up!  Alright… So I quickly check the GPS for fuel and find that the nearest known fuel is 3 miles behind me and the next exit to do a U-turn is another 7 miles away.  For your typical touring bike this would be a problem, but I'm on a DRZ.  I wait for traffic to die down and cut across the highway and dip down in the muddy/grassy space between the highways and emerge onto the returning side of the interstate.
Cruising at 45 mph to conserve the remaining accessible fuel I drive in the shoulder for the 3 miles to exit GPS says has fuel.
Sputtersputtersputter… I run out of gas comically at the off-ramp with the fuel station in sight at the bottom of the hill (!)
Instantly as the sputtering begins I pop her into neutral and coast through a stop sign up a little hill into the gas station gently rolling to a stop in front of the pump.
Here's the useful pic for other Safari tank users:
A day later I arrive in the Denver area and stay at my brother's brother in-law's house.  There has to be a short way of saying brother's brother in-law, but I'm not sure exactly sure what it would be.  Dave (the BBIL) and Claire (the BSIL) were great hosts and I really enjoyed visiting them.  They're both pursuing a career in medicine.  Dave has a few years left as Mr. but Clair is already Dr. so it is a Mr. and Dr. In-Law.
I took the day to try to address my missing tankbag strap issue.  I found that Wolfman luggage was sold all over Denver, but then I realized that Wolfman Luggage is BASED in Denver.
They were very helpful and gave me the straps I needed and gave me a good deal on tank panniers.
The next AM, my brother, his wife, and their daughter arrived in Denver.  It was great to see them again and Dave showed us his bees.  My brother and I joked about becoming beekeepers ever since we saw Rushmore.  Since then I've taken an apiary class but didn't have the space to set up a hive.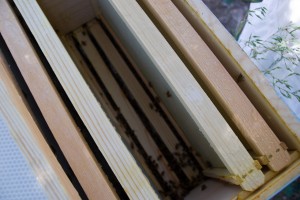 After spending some time with the family, I left Highland Ranch (south Denver) and drove up to meet Bouldergeek from advrider.  I talked to him several times over the years about traveling south and followed his ride report.  While interesting in many ways, he lived near the South Pole for a year where he met his fantastic girlfriend Jeri (who also worked in Iraq!!).  They both showed me an excellent time around Boulder.
As I prepared to leave Sunday AM for the road… the bike wouldn't start.  I'm only a couple of days traveling and I'm already having mechanical problems….